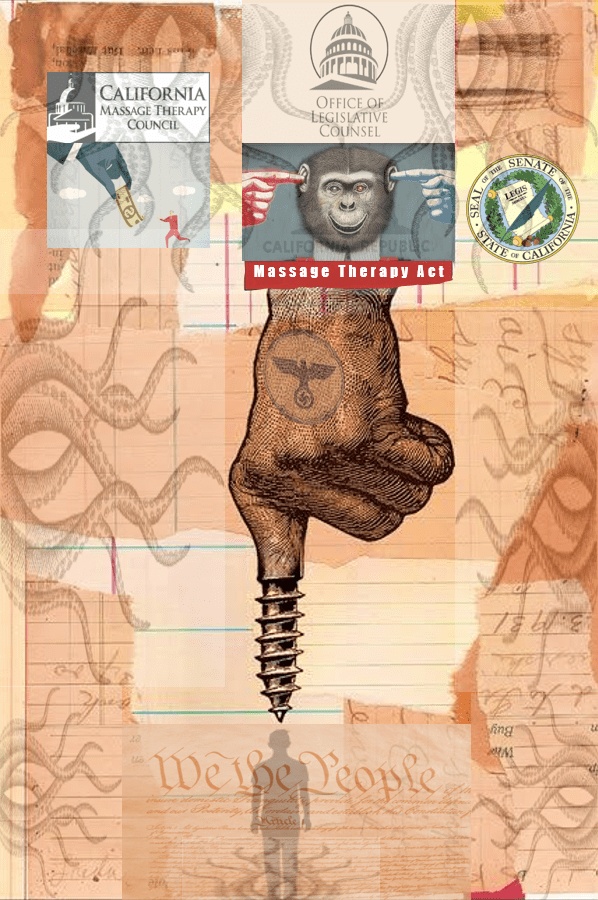 Illustration composited by James Vaughn
California's Massage Regulation Fiasco
California Massage Therapists jumped with enthusiastic support when the Massage Therapy Act (MTA) presented Massage Therapists (MTs) the prospect of gaining more professional legitimacy and respect as healthcare professionals. Unfortunately, the architects of the MTA intentionally neglected to point out the fine print to MTs, and hundreds if not thousands have lost their careers -and their lives- as a result.
The following facts explain what consumers, employers and MTs should know about the CAMTC, the Massage Therapy Act, and what needs to happen to stop this corrupt regulatory scheme from destroying more lives.
1) The Massage Therapy Act bypasses our justice system.
The primary purpose of the MTA is to help authorities more quickly and easily shut down Massage Therapists suspected of prostitution or sexual misconduct, and to curb human trafficking related to illicit massage establishments.
The MTA does this by authorizing the CAMTC to bypass our courts using their own private tribunal, the Professional Standards Division (PSD), to revoke or suspend certifications at will, without any oversight to prevent them from abusing their discretion. I'll address the significance of this later in this article.
2) The PSD uses the lowest standard of proof.
Due to the profound implications sexual assault convictions bear, courts evaluate criminal claims by the highest standard of evidence, called "Beyond a Reasonable Doubt." This makes it very difficult to make criminal convictions and get guilty perpetrators put away quickly for the public good.
However, incredibly, our State Legislators approved the MTA despite it only requiring the PSD to observe the lowest standard of proof, called "Preponderance of Evidence," regardless of the severity of the claim made against a certificate holder. The significance of this will be explored below.
3) The PSD
wants
to find MTs guilty.
On page 20, under Overall Cost of Program Compared to its Success, the CAMTC states:
"The CAMTC reported in its 2015 Sunset Review Report that it's hearing process works very well and is cost effective. …Before sending a proposed denial or proposed revocation or discipline letter, the CAMTC makes sure that there is sufficient evidence to take action against the individual. This results in a very high number of proposed denials and proposed certificate holder disciplines being upheld…"
Did you catch that? Their statement reveals that, when they send a letter "proposing" to discipline you, they've
already decided
to do it based on the claimant's statement alone, before getting the defendant's statement. They ignore the defendant's testimony, supporting character statements and evidence regardless of how overwhelmingly they vindicate the defendant. They also ignore how discreditable the claimant is. The decision has already been made. Anyone who's received a letter from the PSD has seen the unambiguous language stating claims as fact instead of in terms of the allegations they are. The hearing they offer is nothing more than a formality of pretense that serves no apparent purpose than an excuse for unnecessary lawyers soaking the CAMTC -who apparently are too ignorant to know better.
In the scientific community, fudging numbers like this is considered fraud and has serious financial and career consequences. To put this in perspective:
"…papers retracted due to misconduct accounted for approximately $58 million in direct funding by the NIH between 1992 and 2012…" and "Researchers experienced a median 91.8% decrease in publication output and large declines in funding after censure by the ORI."
How did CA Legislators miss this obvious and gross misconduct? More concerning is, if they caught it, why have they allowed this miscarriage of Justice to continue destroying innocent lives?
4) Appeals are inaccessible and ineffective
When this certificate is denied, suspended or revoked, the ONLY way to appeal that is in Superior Court through what's called a "Writ of Mandamus." Attorneys charge a minimum of $20,000 to produce and file this document. That's besides any additional costs related to your case, which can reach $10,000 or more. The reality is, 99% of massage therapists can't afford this. And this is a futile effort anyway since the court only reviews whether your Constitutional rights to due process were observed. It doesn't review the evidence to provide a 2nd, prevailing, judgement. The judge doesn't decide whether the PSD abused their discretion or made a fair judgement. Since MTs face a pre-determined guilty verdict when a serious claim is made against them via the CAMTC, the strategy is simply to buy time to keep working and saving to help them transition to a new career. This is all that's ultimately accomplished by filing a
Writ of Mandamus
along with an
Ex Parte Stay
so the court may suspend the PSD's action of suspending or revoking the certification so the MT can keep working pending the outcome of their Superior Court hearing. But this is a hail Mary since judges wanting to be re-appointed will likely deny an Ex Parte Stay to show the public he or she didn't let a possible predator or incompetent therapist remain a threat to their community pending the hearing; and the MT's career comes to an abrupt end. Ultimately, it's basically futile to appeal the PSD's judgement. So, MTs who are able to access the finances to pursue an appeal are better off using their funds to survive as they transition to a new career.
5) Professional massage associations offer no protection.
American Massage Council and ABMP do not cover claims made against CAMTC certificates; and AMTA only covers $10,000 for legal expenses per proceeding -so long as it's not related to claims of sexual misconduct*.
* While claims of sexual misconduct are much harder to prove than injury claims, they are substantially more common in the massage industry, while injury claims are extremely rare. Consequently, to keep as profitable as possible, these providers refuse to protect Massage Therapists from their greatest risk and only cover injury claims to keep their coffers from getting tied up.
There are only a handful of liability insurance providers that cover such claims, but their policies begin at $500 per year, so most MTs choose other plans to save money. The problem is, most MTs are completely unaware of the risks of working in CA until it's too late.
6) Cities freely violate the Massage Therapy Act.
7) The Massage Therapy Act failed its mission.
8) CAMTC claimants cannot be sued for defamation.
Defamation requires "unprivileged" statements such as those made through newspapers, magazines, TV, etc. But even false claims made in court, City Council meetings or the CAMTC are considered "privileged" so accusers can't be sued if they use such venues.
9) Government cannot be sued.
You'd assume there must be some form of oversite to hold California's government accountable for passing laws that allow all of this. But more than a dozen lawyers consulted cited the term "Government Immunity." This basically means you can't sue the government. They explained the reason for this is, if this was allowed, government wouldn't be able to function due to constant interference from the impact of lawsuits.
While this certification is
voluntary
under State law, most cities and counties now require it by exploiting an intentional loophole created in the MTA. So, losing this certification costs MTs their jobs and prevents them from getting work elsewhere as MTs -forcing them to find a way to enter a new line of work to support themselves and their families.
All of this results in MTs risking the loss of their livelihood on nothing more than the whim of unethical people. And few MTs, if any, have the resources to survive the loss of their career, much less to afford to earn a college, or get vocational training, to effectively compete for a viable job in a new career.
From 2015 to 2016's first quarter, 117 certificates were revoked, 1 was suspended for 1 year and 3 were suspended for 6 months. That's 121 lives in 1.25 years that were seriously disrupted and most likely destroyed with nothing more than a written declaration made against them. The CAMTC has been doing this since September 2009, so the number of lives they maliciously destroyed for personal gain over the last 7.75 years is close to 750.
While we don't know yet how many of those individuals were actually guilty of harming massage consumers, considering the available evidence, the number of innocent lives destroyed must be substantial. And those don't include the 643 careers that were denied from even starting during the same period.
Those numbers may not seem high to politicians and economists, but if you think of it like permanently holding back entire high school senior classes from graduating from multiple high schools in your city, I'm sure you'd be outraged.
The PSD accounts for 11% of the CAMTC's expense categories but 32% of their budget, resulting in applicants waiting over a year in some cases due to sorely understaffed application processors. The most widespread criticism against the CAMTC is the extensive turn-around time for applicants.
Beverly May reported at the CAMTC Board of Directors meeting June 8, 2017 that it takes about 75 days for certificates to be issued after applications are received. But the reality is May is grossly misleading, because it takes 6 – 12 months according to the majority of MTs who have spoken up in social media. Even 2.5 months (75 days) is an excessive wait for applicants who need to get hired immediately after completing their education so they can keep the lights on.
Making disciplinary decisions based on court rulings would not only assure MTs their Constitutional rights and fair trials. It would also free up the most significant -and unnecessary- expense the CAMTC has, and enable them to process applications within a reasonable amount of time so would-be Massage Therapists can start their careers instead of fall through the cracks.
A CAMTC Board of Directors meeting revealed:
• New Applications are below budget requirements.
• January 2017 revenue was 7.5% lower than in 2016.
• Expenses were up 23.2%.
• January saw a net loss of $25,009 vs. $86,721 net gain in 2016.
A 7.5% decrease in revenue with a 23.2% increase in expenses is actually a 30.7% loss. If this continues, it won't be long before their emergency funds evaporate and they have to shut down.
One would think the CAMTC would be motivated to adopt this proposed procedural change given they desperately need to revise their unsustainable business model. But the League of Cities lobbied hard and pressured the CAMTC to create their current process to make it easier for local law enforcement to suppress prostitution and human trafficking related to illicit massage fronts. Since this change would subvert the primary purpose of the Massage Therapy Act, it puts the CAMTC in a very difficult position.
But, as mentioned earlier, Blue Sky Consulting found the primary purpose of the MTA has been failed, and this scheme is ultimately ineffective in fulfilling its purpose. So, there's no legitimate reason for the League of Cities to continue pressuring things to continue as they have, and the CAMTC Board would not only ensure their survival but profoundly improve matters for legitimate MTs.
Since the CAMTC has refused to change this one simple procedure despite their best interests, and CA legislators continue to turn a blind eye to the plight of MTs, it falls upon MTs to share this article and get enough signatures for the petition below to compel CA legislators to back amending the MTA.
1) Sign
this petition
,
2) Share this article with City, County and State Representatives, and everyone you know who values quality, ethical Massage Therapists,
3) Pressure the CAMTC Board of Directors to implement this proposal,
4) Pressure your City/County to repeal ordinances requiring CAMTC certification,
5) Join the conversation at www.facebook.com/groups/ReformCAMTC